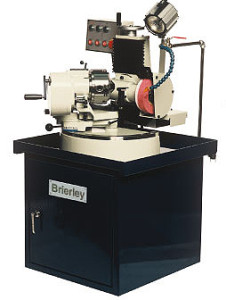 Simple to operate. Unskilled operators can quickly learn to produce perfect drill points. Set up and grinding is fast and the web can be thinned in a few seconds.
Accurate. Rugged construction and precision components ensure accuracy and repeatability over many years. Heavy duty compound slides and one-piece cast iron base increase rigidity and minimise vibration. The workhead incorporates precision needle roller and thrust bearings, while the main chuck spindle utilises a rotalin bearing giving less than 0.005 mm deflection. The six-jaw chuck accurately centres the drill to ensure each cutting lip is equally ground for both length and angle to develop a precision point.
Versatile. A wide range of points can be ground: Right-hand and left-hand drills with point angles between 40o and 180o, standard, centre drills, carbide drills, step and subland drills, taps and reamers. Also a number of NC self-centre points can be ground, including split, four-facet and spiral. Cutting lips can also be corrected.
6 Jaw Self-Centering Chuck.

Grinding Wheel (recessed one side)

"Dish" Grinding Wheel for Point Thinning.

Grinding Wheel Flange and Balancing Weight.

Two Grinding Wheel Diamond Dressers (one angle dresser and one straight).

No. 1,2,3,4 Morse Taper Sleeve for ZB-50N

No. 2,3,4,5,6 M.T Sleeve for ZB-80N

Cam No.4 for Point Angle (40º-180º)

Cam No.6 for Step Drill

Cam No.8 for 4 Flute Taps or Reamers

A.C. Motor.

Tools for General use.

Service/Instruction Manual.

Work Light (12 Volts)
OPTIONAL ACCESSORIES
Flood Coolant System. (Increases wheel life and prevents burning of drill)

Silicon Carbide and Diamond Wheels for Carbide Drills.

Radial Relief Attachment. Relieves Radius of Pilot to Produce Lands. Also for Sharpening End Mills

Wheel Balancer & Arbor

Auto Feed Mechanism (pre-setting feeding quantity)

Powered Workhead for Automatic Rotation & Cam Action (R.P.M 0-58 stepless)

Extra Grinding Wheel Flange for Cup Wheel

Cup Grinding Wheel

Cam for Left Hand Drills

Cam for Spiral Point Drills

Flood Coolant System. (Increases wheel life and prevents burning of drill)

Silicon Carbide and Diamond Wheels for Carbide Drills.

Radial Relief Attachment. Relieves Radius of Pilot to Produce Lands. Also for Sharpening End Mills

Wheel Balancer & Arbor

Auto Feed Mechanism (pre-setting feeding quantity)

Powered Workhead for Automatic Rotation & Cam Action (R.P.M 0-58 stepless)

Extra Grinding Wheel Flange for Cup Wheel

Cup Grinding Wheel

Cam for Left Hand Drills

Cam for Spiral Point Drills
| MODEL | ZB-50N (DUAL CAM) | ZB80 |
| --- | --- | --- |
| Drill Size | (Ø2.5mm-Ø51mm) straight or taper shank (1,2,3,4,5,6 flute) | Ø4mm-Ø80mm(1,2,3,4,5,6 flute) |
| Point Angles | 40º-180º | 40º-180º |
| Clearance angle | 0º-18º | 0º-18º |
| Motor | ½ hp single or 3 phase totally enclosed fan cooled | 1 ½ hp |
| Grinding Wheels | Main wheel 7" x 1 ¼" x 1 ¼" | Main wheel(180mm x 50mm x 31.75mm) |
|   | (180mm x 32mm x 31.75mm) |   |
|   | Point thinning dish wheel | Point thinning dish wheel |
|   | 6 5/8"x7/8"x1 1/4" |   |
|   | (165mm x 21mm x 31.75mm) | (165mm x 21mm x 31.75mm) |
| Grinding the End of End Mills | 2,3,4,6,12 flute | 2,3,4,6,12 flute |
| Net Weight | 300 kgs | 380 kgs |
| Dimensions | 970mm x 910mm x1600mm | 1090mm x 1120mm x 1650mm |
Price and Offer Questions