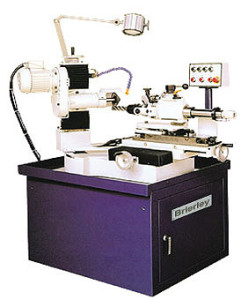 The Universal Tool & Cutter Grinder Model ZB-160U is versatile in operation without requiring special skills. All milling cutters, endmills, shell endmills, staggered tooth cutters, rough endmills, step drills and taps can be ground.
The Model ZB-160U is designed to fabricate and resharpen HSS and carbide tools in small and medium quantities.
In one chucking operation, the machine can perform the grinding of the rake angle of the flute, clearance angle on the periphery and the end of the tool.
A few seconds set up time for helix angle.
Due to the backlash free operation, spiral toothed, solid carbide or carbide tipped milling cutters can be ground with high accuracy thus far only achieved by CNC grinders.
The heavy duty compound slides and one piece cast-iron base provide extra rigidity and minimize vibration.

Standard Equipment
Taper Grinding Attachment

One Grinding Wheel Hub

One Indexing Plate 24 Divisions

One Finger Support

One Set of Operating Tools

One Operating Instruction Manual
| | |
| --- | --- |
| Tool Diameter | 2-200mm |
| Spiral Length with Workhead Spindle | 160mm |
| Longitudinal Travel of Workhead | 280mm |
| Cross Travel of Workhead | 130mm |
| Rapid Cross move with Hand Lever | 18mm |
| Vertical Movement of Wheel Head | 230mm |
| Tilting Angle of Wheel Head | 30° |
| Workhead Spindle | ISO40 |
| Spiral Flute & Axial Relief Grinding | |
| Infinitely Variable, Left & Right Hand | |
| Helix Angle | 0°~90° |
| Grinding Wheel Diameter | Max.150mm Grinding wheel Bore 31.75mm |
| Grinding Motor | 0.75Kw |
| Grinding Wheel Direction | Clockwise or anti-clockwise |
| Grinding Spindle Speeds | 6300, 3800, 2600 R.P.M. |
| Net Weight | 540 kgs |
| Dimensions | 1480mm x 1120mm x 1640mm |
Price and Offer Questions